Wide Format Printing Services
Offer your customers wide format print
 products for signage and marketing tools on even more media!
Backlit Displays
You can add an extra dimension to your displays which will grab attention.
Use for both indoor and outdoor advertising and a variety of marketing applications. They are ideal where full colour and impact are a pre-requisite. Creating stunning outdoor and indoor backlit graphics and light box displays where the possibilities are only limited by your imagination.
Backlit Display Applications
  Cinema and Theatre Posters
  Illuminated Bus Shelter Signage
  Illuminated Taxi Signage
  Illuminated Directional Signage
  Illuminated Safety Signage
  Backlit Menu Boards
  Backlit POS Advertising
  Petrol Stations
  Street Signage
Media types:
  Backlit Scrim Banner
  Translucent Film
  Polyester Fil
  Frontlit Backlit Panner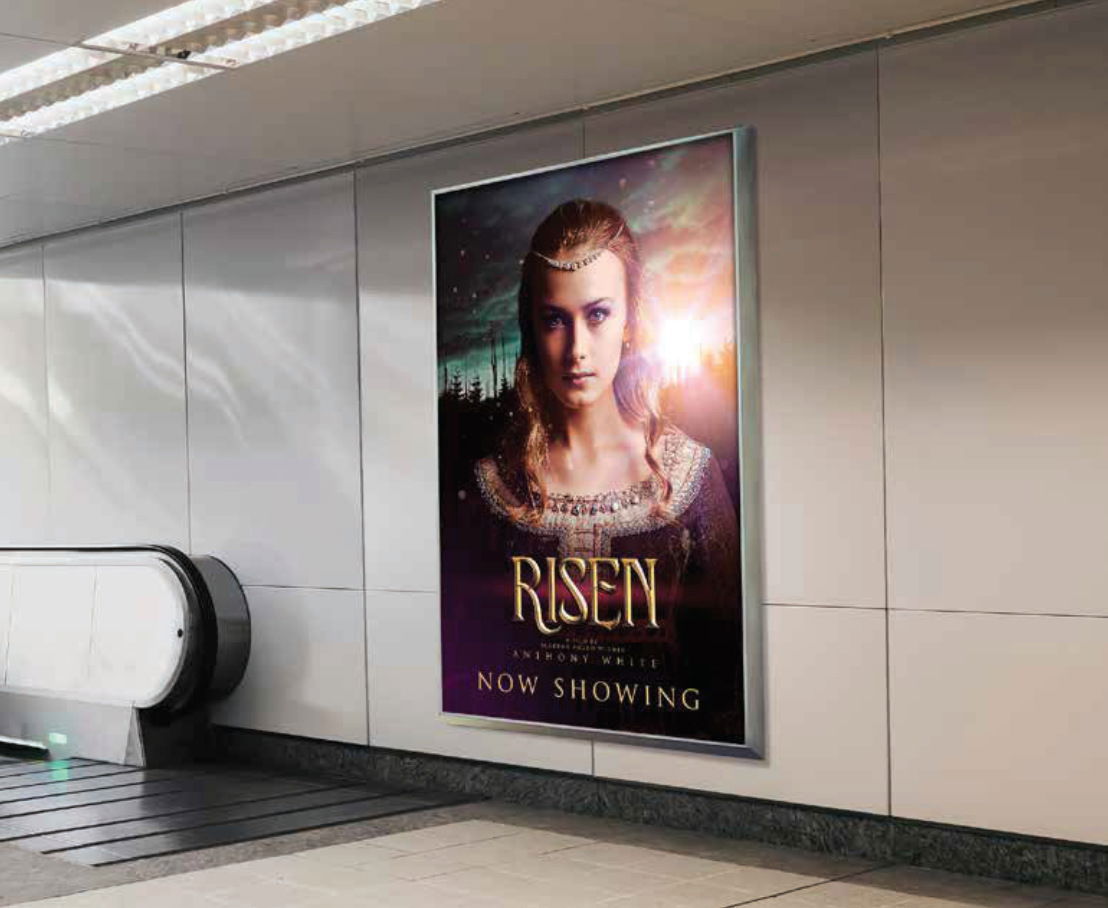 Vehicle Graphics
Vehicle graphics are not referred to as 'moving billboards' for nothing!
Numerous media products available for extended durability, excellent conformability to irregular surfaces, repositionability, and ease of application. At the end of the vehicle graphic's life there is clean removability.
Applications:
  Bus Wraps
  Transit Signage
  Full Vehicle Wraps
  Partial Vehicle Wraps
  Fleet Graphics
  Flat Sided Trucks
  Van Livery
  Trains and Light Rail
  Marine Graphics
Media types:
  Cast Self-Adhesive Vinyl
  Calendar Self-Adhesive Vinyl
  Perforated Window Films
  Reflective-Printable
  Magnetic
Construction & Site Signage
In this competitive area site signage can be valuable tool for attracting new business.
Site signs effectively communicating safety messaging. They are used to inform the public and compliance entities of the contractor in charge of the site. Site signs are required on all sites, and it is mandatory for licensees to comply with the local requirements regarding signage set out by the relevant authorities.
Applications:
  Hoarding Signage
  Site Wraps
  Building Wraps
  Safety Signage
  Real Estate Boards
  Mandatory Signs
  Emergency Signs
  Warning/Danger Signs
Media types:
  Banner Mesh
  Scrim banner – outdoor
  Shade cloth real estate vinyl
  Calendered self-adhesive vinyl
Exhibition & trade show display
Great trade show, exhibition displays and conferences are hard to miss.
Eye-catching and exciting, they create impact even in the busiest convention centre or hall ensuring the product of offer on show, stands out from the crowd. The range of creative applications to draw maximum attention and communicate the right corporate images are endless.
Applications:
  Trade Show Advertising Posters
  Pull Up / Roll Up Stands
  Hanging Displays
  Illuminated Displays
  Directional Signage
  Floor Graphics
Media types:
  Banner
  Polypropylene
  Calendered Self
  Adhesive vinyl
Floor graphics
Utilises unused floor space for advertising, branding, communicating directions and product placement.
Attract potential customers! Floor graphics motivate impulses purchases and drive traffic. Floor graphics are a great tool for promotional activity and for creating a visual engagement and curiosity. Floor graphics can be both short or long term and materials are available to suit indoor and outdoor surfaces such as carpet, wood, concrete, road surface, and car parking areas, lift floors and stairs.
Note: All Floor Graphics materials must comply with Australian Standard regulations for slip resistance see: Australian standard AS/NZS 4856:2004 Slip Resistance Classification of New Pedestrian Surface Materials and CSIRO HB197:1999 An Introductory Guide to the Slip Resistance of Pedestrian Surface Materials for more info.
Applications:
  Flyer Branding
  Pavement Graphics – Outdoor
  Directional Signage
  Retail POS
  Carpark Pavements
  Exhibition and Display
  Wall / Facade Graphics Restaurants / Kitchen floors
Media types:
  SAV + Non Slip
  Laminate
  Carpet Film
  Wall Film
  Floor Film (no laminate)
  High Energy Surface Film 
Art applications
Produce fine art reproductions and large format photographic prints.
For display in homes, office, hotels, retail locations and even for a special art exhibitions. Achieve gallery quality reproductions that look true to the original at a fraction of the cost. Specially formulated fine art canvas media and photo papers give photographers and designers the excellent colour results and smooth gradations and quality they expect. Applies to all types of long life format artwork and photographic images.
Applications:
  Art Reproduction
  Photo Prints
  Murals
Media types:
  Canvass
  Texture Fine Art Paper
  Photo Paper 
Outdoor signage
Create the first impression customers have of a business.
Available in a wide range of options it is arguably one of the most important investments for a business by helping to drive customers through the front door. A fixed point of brand advertising, it becomes an extremely impactful and cost effective way to reach new passers-by or become top of mind for those exposed daily on their regular commute.
Applications:
  Banners
  Directional Signage
  Real estate Signs
  Wall Signage
  Floor Graphics
  Sidewalk Signs
Media types:
  Banner Mesh
  Scrim Banner – Outdoor
  Shade Cloth
  Calendered Self-Adhesive Vinyl
  Cast Self-Adhesive Vinyl 
Indoor promotional graphics
Produce high impact, vibrant images.
Make promotional graphics stand out in any retail or corporate environment. Indoor promotional graphics are a great way of marketing communication and creative grand awareness for product or services in specific locations and seasonal promotional periods.
Applications:
  Hanging POP/POS Display
  Retail Posters
  Trade Shows
  Conferences
Media types:
  Specialty Papers
  Indoor Stayflat Banner
  Polypropylene
  Heat Transfer Films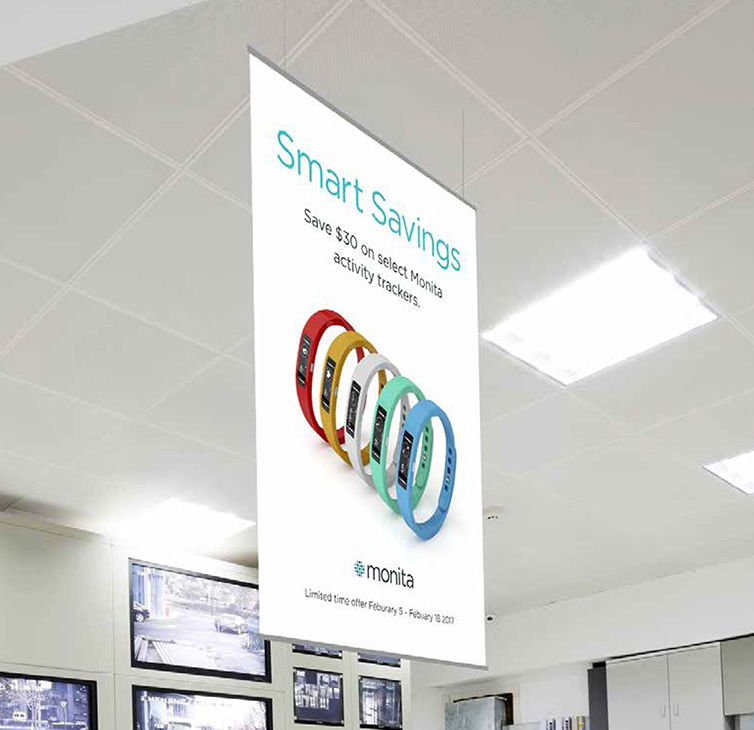 Display systems
Low cost, lightweight and easily transportable display stands.
Perfect on-the-move promotional material for any business. Multi use whether in store or in a corporate environment, for use at meetings, trade shows and customer events. Get your customer to stop and act. Only display stands give you the flexibility of positioning your company, product or service on the ground at eye-level in high traffic areas where they truly can't be missed.
Applications:
  Hanging Display
  Roll Up/Pull Up Display Systems
  Pop Up Display Systems
  Poster Frames
  A Frame Stands
  X Frame Stands
Media types:
  Polypropylene
  Indoor Stayflat Banner
  Pop Up Film
  Roll Up Film
  Textile
Window graphics
Transform ordinary spaces!
High quality window graphics for either short or long term applications. It's an effective form of advertising creating a billboard to catch the eye of passing trade. Can be used internally to create privacy or a neat professional look for the home or business.
Applications:
  Retail Graphics
  Privacy Screening
  Vehicle Windows
  Die Cut Window
  Decals
Media types:
  Clear Film
  Glass Deco Film
  Optically Clear Film
  Etch/Frosted Film
  Perforated Window Film
  Static Cling
Interior decor
Only limited to the imagination!
Transform your business, home living area with a custom high quality image printed as a wall graphic. High value interior products are endless. It's a fantastic solution to dress walls, fitting rooms and ceilings to create a unique impact.
Applications:
  Wall Coverings
  Lampshades
  Murals
  Photo Murals
  Hotel Flyers
  Office Feature Wall Coverings
  Custom Wallpaper
  Wall Decal
  Custom Blinds
Media types:
  Canvass
  Wallpaper
  Textiles
  Film
Soft signage
Need a specialist product for the exhibition, trade show and shopping centre environments that require big impact?
Being an imposing size this signage is designated to be hung high, giving you the perfect solution to the tower over your competition. This lightweight range of textiles, substrates are compact when packed away for easy transportation.
Applications:
  Hanging Retail Displays
  Hanging Exhibition Displays
  Roll Up/Pull Up Displays
  Wall Tattoos
  Photos
  Borders
  Large Surface Wall Decorations
  Outdoor Flags
Media types:
  Flag Cloth
  Flame/Fire Retardant Textiles
  Banner Textile
  Polyester Textile
 Sticky Back Textile
Alpha Mail
 is here to assist and respond quickly, day, night and weekend. 
YES, we are up and running to provide businesses mailing capabilities in this crisis and into the future.
[contact-form-7 id="8″ title="Contact Form"]
Tell us what you need
Alpha Mail offers a free quoting service – quick and easy!
Same Day Quotes Contact us now